The COVID-19 event accelerated a changing logistics: home delivery.
The energy transition had already pushed the development of soft deliveries with 3 objectives:
Decongestion of the city centre;

Reduction of noise pollution;

Reduction of gases, pollutants and particulates related to fuel consumption.
In the case of food e-commerce, an additional dimension is added: cold chain management. How to deliver fresh and frozen products in the city centre with low-carbon and silent logistics?
COLD & CO offers an inventory of the controlled cold chain cyclo-logistics.
Tricycle, cargo trike, cargo bike, boxbike, truck bike, trailer cargo bike, longtail bike pushcart bike… What is the difference ? 
Delivery bikes or work bikes in the city centre are developed in different forms. Here is a brief lexicon of these new cycles.
Cargo Bike
The cargo bike is a bicycle designed to transport heavy and bulky goods. The cargo bicycle is also used on the streets of major cities around the world for parcel deliveries, food service, just about any package delivery in congested urban areas. It has a crate or tray integrated into its structure.
It will be called " two wheels cargo bike" or "cargo bicycle" if it has 2 wheels, "Cargo trike" or "3-wheeled front cargo bike" if it has 3 wheels including 2 in the front and "cargo tricycle" if it has 3 wheels including 2 in the rear.
Example of a biporter : the Douze Cycles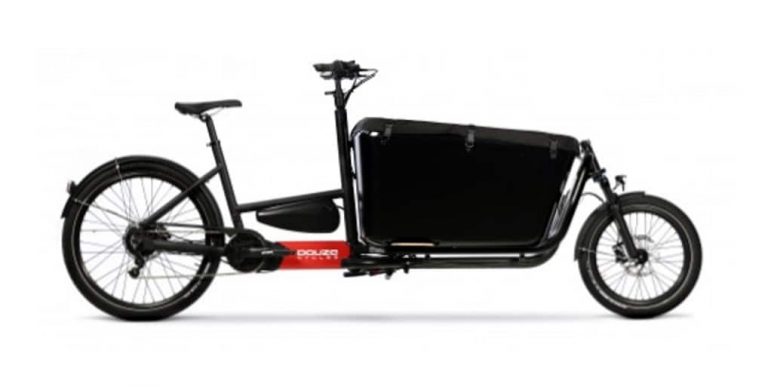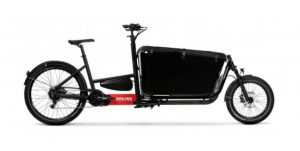 Example of a Cargo Trike : the Urban Arrow 3-wheeled front cargo bike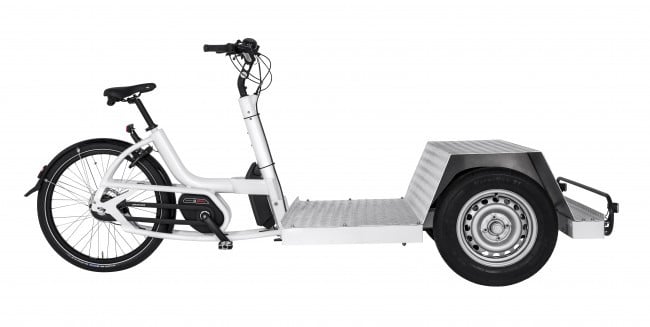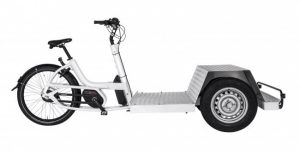 Example of a rear-load tricycle : the VUF three wheels cargo bike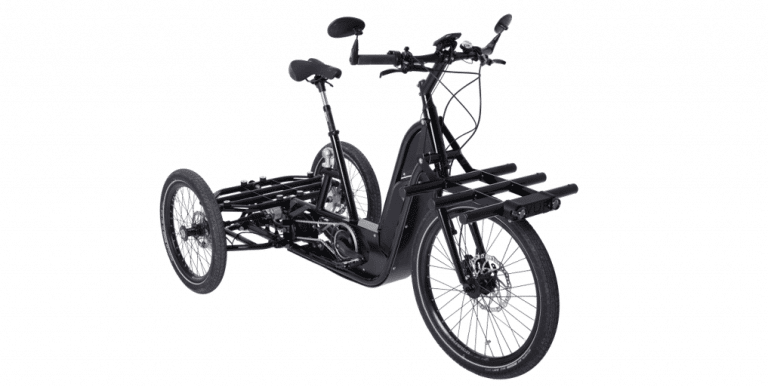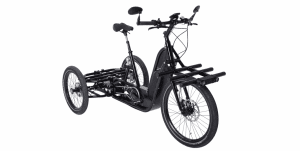 Cargobike Truck
The bicycle trailer has a two- or three-wheel trailer that attaches:
at the centre line of the rear wheel;
at the level of the saddle when passing over the rear wheel of the cart bike.
2 wheel trailer toutenvelo :
rear wheel attachement
3 wheels trailer carlacargo :
under seat fixation
How to guarantee the delivery of fresh products by bike? How to build its cold chain in cyclo-logistics ?
To respect the cold chain and keep temperatures cool or frozen, it is necessary to consider 2 main elements:
an isothermal container that will limit heat transfer between outside and inside,
a source of cold or refrigerants that will have the function of spreading cold and maintaining the target temperature of your fresh or frozen products.
Isothermal containers are available in different volumes and materials. Many combinations of urban cycling cold chain are achievable between COLD & CO insulated containers and delivery bikes. We also offer you a selection of existing solutions to explain the scope of possibilities. This list is not exhaustive! Do not hesitate to contact us, we will answer your needs and questions.
2. Insulated containers from 80L to 600L 
The COLD & CO isothermal containers CarryTemp are boxes with a high isothermal performance.
Delivered with the ATP approval, the refrigerated container CarryTemp complies with the French and international regulations in force concerning the conditions of hygiene and transport of perishable food.
Robust, washable and removable, CarryTemp is very light: its weight-to-volume ratio is extremely low, making it a real asset for transporting fresh or frozen goods by bike.
Fraischeztoi makes its fresh deliveries thanks to the CarryTemp XL6 associated with the tricycle and 
VUF 
trailer
.
Toutenvelo offers a bi-temperature trailer with a Dibond box for dry transport and the CarryTemp 246L for fresh products.
The "Triporteurs de l'Ouest" use 

the CarryTemp 360L

 on the Urban Arrow 1500.
3. Thermal CottonInsert for crocodile case/plastic box 600 x 400
The 600 x 400 plastic box is a recurring logistics unit in home delivery. Also called crocodile crates, these plastic crates exist in several heights, the most common of which are the heights H310 and H365.Some logisticians wish to keep this logistic unit to move from one mode of transport to another until the final delivery point to save time and facilitate logistics.
In the case of temperature controlled delivery, a tip is to add an insulating cotton insert to the inside of the crocodile case. In this sense, COLD & CO has developed a flexible insert, the CottonInsert, which fits into these logistics handling crates without risk of breakage. The CottonInsert consists of 2 elements that fit into the crocodile box.
Fleximodal's Runner trailer can accommodate up to 4 crocodile crates on the floor.
The tray of the Douze Cycles bicycle can hold 2 crocodile crates on the ground.
The Bicylift trailer with the Fleximodal Bin Rack can accommodate up to 16 H310 crocodile cases.
4. Solid and Professional Insulated boxes: Distrifresh
If you opt for containers dedicated only to the delivery of fresh products, the Distrifresh insulated box from COLD & CO will adapt just as well as the crocodile boxes on your cargo bikes and bicycle trailers.
5. Thermal bags to the transport of fresh or frozen products
Ideal for the delivery of fresh and frozen in small volumes, the OneDay Fresh and OneDay Freeze bag from COLD & CO is a cooler bag.
Its technology ? It presents inside its walls a thin layer of gel distributed on both sides. Previously frozen, the OneDay bag gives off its cold battery and thus ensures an autonomous cold for your bike deliveries. The OneDay Fresh version keeps fresh products between 0°C and 4°C when the OneDay Freeze keeps frozen products below -16°C.
In addition to a delivery of dry products, the OneDay Fresh or Freeze bag fits easily into your cargo bicycle and offers a chain of cold in complete autonomy and mobility, ideal for an eco friendly delivery by bike.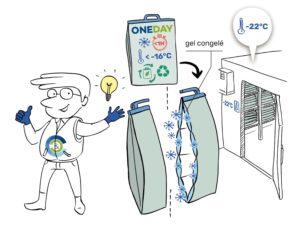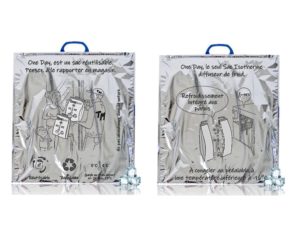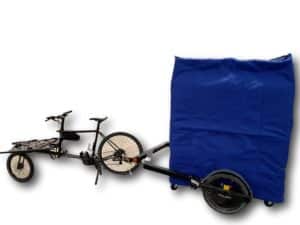 6. Insulated Covers
If your entire pallet of fresh products must not suffer any loss of load or temperature variations, the solution is to cover it with an insulated cover. Our insulated covers are robust and washable and perfectly adapted to the logistic conditions of high handling. The height can be easily adjusted thanks to a scratch system to adapt it to the size of your cargobike Truck.
7. And to have a complete cold chain…
… Maintain your temperatures with refrigerants
… Control your cold chain with temperature indicators and recorders