The choice between buying / renting a refrigerated transport vehicle and fitting out your van can be a decision with serious consequences for the profitability of your delivery system. COLD & CO advises you.
Ask yourself the right questions
Before choosing your refrigerated transport method, it is important to learn about the specifics of each system.
Study your refrigerated transport options
When you are a retailer, logistician, caterer, wholesaler or restaurateur, the refrigerated vehicle is a practical solution that allows you to keep heat-sensitive goods cold, while respecting the regulations in force (ATP for foodstuffs, GDPs for Pharmaceutical products).
During your budget study, you may have to make a choice between the purchase / rental of a refrigerated vehicle or the fitting out of a refrigerated isothermal van.
A simple and economical solution
Be aware that there is another alternative to the refrigerated vehicle. It consists of inserting into an existing dry commercial vehicle, an autonomous and lightweight refrigerated isothermal container like the CarryTemp from COLD & CO.
This formula makes it possible in particular to dispense with the management of rentals in the event of a peak in activity, monthly rents unprofitable when your activity is suspended, a substantial amount to be mobilized for the purchase or fitting of a refrigerated transport vehicle.
CarryTemp innovation for refrigerated transport
CarryTemp is therefore a very interesting innovation to renew your refrigerated transport system. Here are some of its attributes: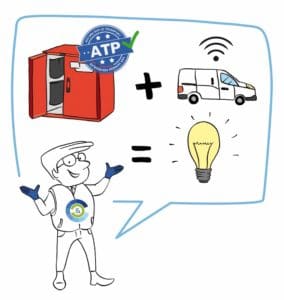 An ATP certified solution
The CarryTemp container is delivered with ATP approval and is certified by Cemafroid. It thus complies with international regulations in force concerning the conditions of hygiene and transport of perishable foodstuffs.
A practical and ergonomic aspect
With an extremely low weight / volume ratio (count 30kg for 600L useful), you will easily place the CarryTemp in your vehicle, inside the trunk or side door.
But how does it work? The highly insulating polyurethane panels (lambda of 0.022W / m.K) insulate the container from outside temperatures. The cold is supplied by adding eutectic plates previously frozen with cold formulas defined according to the desired temperature.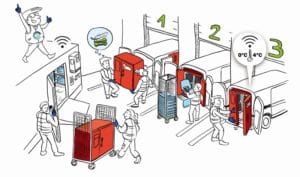 A refrigerated transport solution optimized for the city center
Improving air quality, reducing noise pollution, decongesting urban areas … large cities are implementing environmental policies for urban distribution. How to meet these new requirements?
CarryTemp has the double advantage of silent and energy-independent refrigeration. It is therefore an ideal solution to meet the new eco-responsible urban requirements, for example by transforming NGV or electric utility vehicles into clean and refrigerated vans.
These advantages are real arguments, both for traditional refrigerated vehicles with a cooling unit. consumer of fossil energy and generator of noise pollution, than on electric refrigerated vans whose keeping cold has a significant impact on the consumption of the vehicle battery.
To ensure your deliveries in the city center, also think of the bag system isothermal OneDay!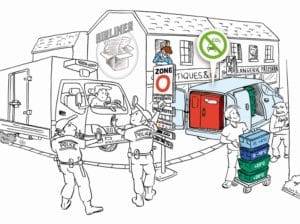 The advantages of the CarryTemp system
The COLD & CO refrigerated and self-contained insulated container CarryTemp has several advantages, which make it an attractive refrigerated transport option.
Low starting capital to amortize
For CarryTemp containers from 150L to 600L of usable volume, the unit purchase budget to be expected ranges between € 900 and € 2,200. To control your budgets, personalized support for payments is possible.
Easy maintenance
As the system does not have a motorized cooling unit, the only maintenance required is hygienic. Designed with a smooth, waterproof coating, you can clean your containers with a simple wipe of a sponge and let them air dry.
A reversible arrangement of your vehicle
Your dry van is intended for multiple uses in dry or cool? Your need for costs occurs over a short season? No need to tamper with the integrity of the vehicle. The CarryTemp works like a refrigerator on the go without electrical connection and with the added lightness!
Also, each CarryTemp is compatible over different temperature ranges. We support you in choosing the eutectic plates adapted to your needs.
A multi-temperature vehicle
Depending on the stock and the thermal sensitivity of your goods, combine several isothermal containers under different temperature ranges and obtain a multi-temperature vehicle: dry, ambient (15 ° C to 25 ° C), cool (2 ° C to 8 ° C or 0 ° C to 4 ° C), frozen (below -15 ° C).
In addition, all of our CarryTemp containers can be equipped with telematics solutions, necessary for real-time temperature traceability.
A variation in 3 ranges
Depending on the vehicle and the heat-sensitive volume to be transported, choose the CarryTemp that suits your needs.
With the design of a trunk and going up to 360L, the CarryTemp Classic range fits easily into the back of Citroën Berlingo, Fiat Doblo Cargo, Ford Transit, Nissan NV200, Peugeot Partner, Renault Kangoo.
CarryTemp XL
With a front opening, the CarryTemp XL range offers greater volume. Its design was built around the most common retail and logistics handling boxes.
CarryTemp Cycle
CarryTemp Cycle: containers specially adapted for cycles: cargo-bike and 3-wheel scooter. Ensure a cold chain on the go!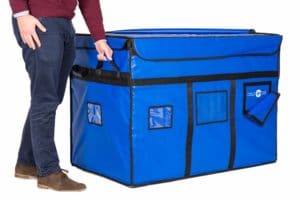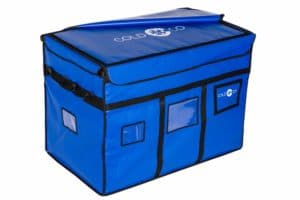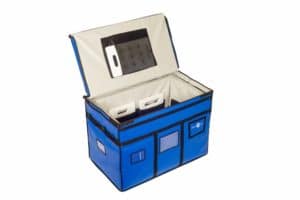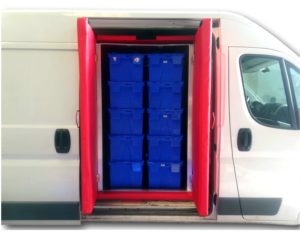 A removable 2m3 cold room for utility vehicles such as Fiat Ducato, Citroën Jumper, Peugeot Boxer, Ford Transit, Volkswagen Crafter, Mercedes Sprinter.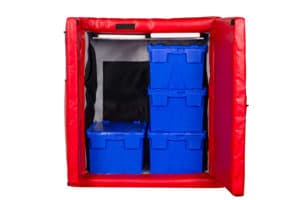 Front opening, the CarryTemp XL6 allows you to keep cold up to 6 logistics handling boxes . Ideal for urban distribution in Nissan NV200 type vehicles.