In the air of time, the custom-made isothermal container CarryTemp XL6 of COLD & CO offers a capacity of 6 crocodile boxes, and answers the needs of logisticians. 
The CarryTemp XL6 model allows for temperature-controlled transport, up to tri-temperature, without affecting the integrity of the standard utility vehicle. The enclosure is equipped with a self-contained passive cooling system with diffuser. "Our product is the direct result of an internal development following needs expressed by several of our customers", explains Adrien Lehideux, President of COLD &  CO (based in Paris and Brussels).
Temporary transformation of a dry Nissan e-NV200 vehicle into a tri-temperature vehicle, without a cooling unit, using the ATP-certified COLD & CO CarryTemp XL6 Plug&Play solution.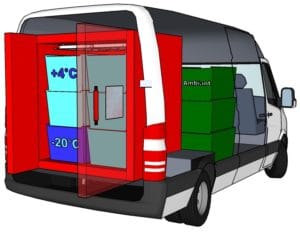 "The main advantage of CarryTemp XL6 lies in the possibility to place the isothermal box very easily in an existing fleet of vehicles." Adrien LEHIDEUX, president of COLD & CO.
"Our solution allows us to equip independent operators, qualified by the principal, with the aim of meeting weekly and/or periodic delivery peaks."
End-to-end benefits 
The cold supply is passive, from adapted eutectic plates with PCM defined according to the desired temperature. The container is extremely light (30kg) and mobile, which makes it a flexible, practical and totally energy autonomous solution. It does not emit particles or gases, does not consume fuel and is completely silent (PIEK).
Moreover, its lightness allows to optimize the vehicle's GVW and consequently to significantly increase the number of distribution points per round. Finally, each box can also be individually insulated at a different temperature (for example, in negative cold when the CarryTemp is in positive cold). Finally, this ATP-certified cabinet allows a large number of door openings (summer and winter) over a daily distribution range while maintaining a positive cold chain below 7°C.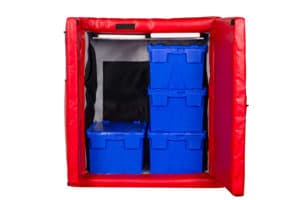 IN NUMBERS
+2°C / +7°C
30KG
empty
capacity:
6 BOX
"croco" 400 x 600 x 320 mm.
Discover on the magazine FROIDNEWS 25 -March 2019, an article dedicated to our range of Isothermal Containers CarryTemp and its innovative variation in terms of carrying and mobility: CarryTemp XL