Available in the following formats:
gastronorm format GN1/1,
gastronorm format GN1/2,
standard formats identical to the containers used by catering professionals.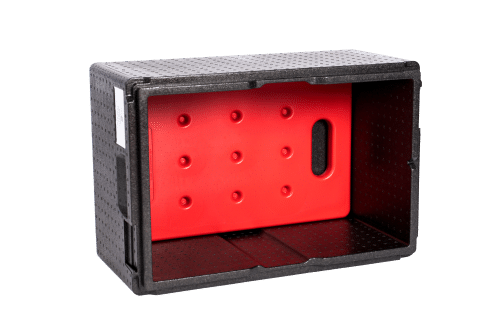 The +65°C hot plate is used in addition to our CarryTemp classic and CarryTemp XL insulated containers and our PPE Distrifresh professional boxes. Please note that the +65°C hot plates are not compatible with polystyrene packaging.
The +65°C hot plate is used in the hotel and catering industry to safely deliver dishes and food in a hot chain.
Before use, the +65°C eutectic plates must first be heated for a maximum of 40 minutes at a maximum temperature of 90°C.
To heat the hot plate +65°C :
1. Preheat your oven to 90°C maximum. You can also use a drying oven, a steam oven or a bain-marie to heat your hot plate +65°C.
2. Place the hot plate +65°C in a stainless steel tray to isolate any accidental spillage.
3. Place your stainless steel tray in the fan oven without direct contact with the heat source (flame, grill, resistance)
4. Monitor the heating and make sure that the 40 minute time limit is not exceeded.
5. Once at high temperature, use heat protection gloves and upper body protectors and handle the tray carefully with the cap facing up.drying oven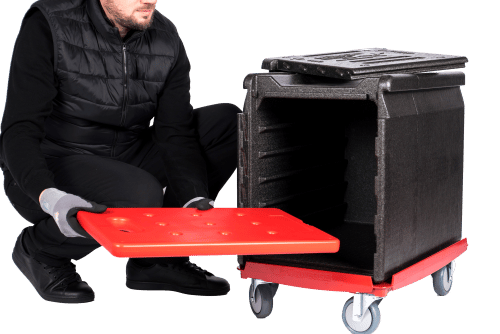 Interested in this product? Download the data sheet!
If you'd like more information on this product, you can download its technical sheet via the form opposite. You'll receive your document directly by e-mail!
We recommend a double or even triple set of plates to organize a rotation system between the plates handed over and those ready for use.
The eutectic plates have a rigid outer shell made of high density polyethylene (HDPE) to resist impact, compression and puncture. These shells are filled with eutectic liquid +65°C and then closed with a crimped cap.
The eutectic plates are robust with reinforced corners and anchor points.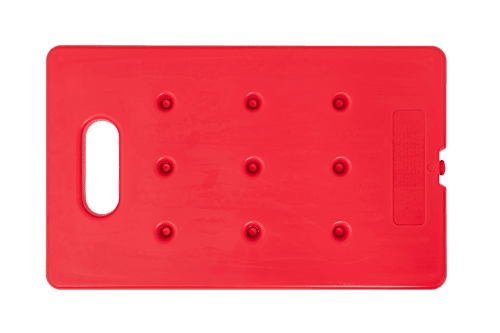 The eutectic plates are made of polyethylene, a non-toxic and environmentally friendly material.
The eutectic plates +65°C meet the NF EN 12546-3 standard "Materials and articles in contact with foodstuffs – Insulating containers for domestic use – Part 3: specification for thermal accumulators".
Installation of the plates
We recommend that you use heat protective gloves when handling the heated plates. For a better distribution of the heat in your isothermal container, we recommend to place the plate in the lower part of your container because the hot air rises. If necessary, place the plates first on the large side faces and then on the small side faces.