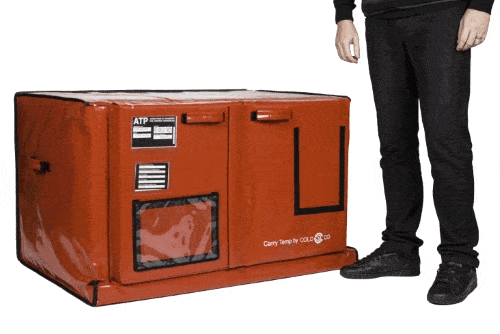 Used by professionals in the gastronomy, food industry or cold logistics, this mobile refrigerated box CarryTemp XL2 is a real advantage to keep and transport your products at the right temperature.
As an example, this box is used by professionals from :
mass distribution: inter-site cold distribution, professional home shopping delivery
collective catering: EHPAD and retirement homes, school canteens, home delivery of meals organized by the CCAS, medical homes
commercial catering: supply of vending machines, cafés, hotels and restaurants
caterers, greengrocers, farmers, artisanal producers or food industries who wish to transport their raw materials or heat-sensitive processed products from one site to another.
CarryTemp XL2 is also used in the medical sector for the distribution of TSP (Thermosensitive Health Products) such as vaccines, non-stable blood products, biotechnological products, biological samples that need to be transported over specific temperature ranges:
fresh range between 2°C and 8°C
ambient range between 15° and 25°C
Like a refrigerated truck, the CarryTemp XL2 insulated container is approved for the professional transportation of heat-sensitive fresh products. The ultra-insulating properties of the CarryTemp XL2 insulated container block heat transfer between the outside and inside of the insulated container. The temperature is maintained by eutectic plates that are pre-loaded and release their frigorie to maintain the target temperature.
An aluminum tray fixed to the ceiling of the CarryTemp XL2 insulated container can hold 2 GN1/1 eutectic plates and diffuse the cold by natural convection. Two additional side pockets can hold extra plates in case of high heat.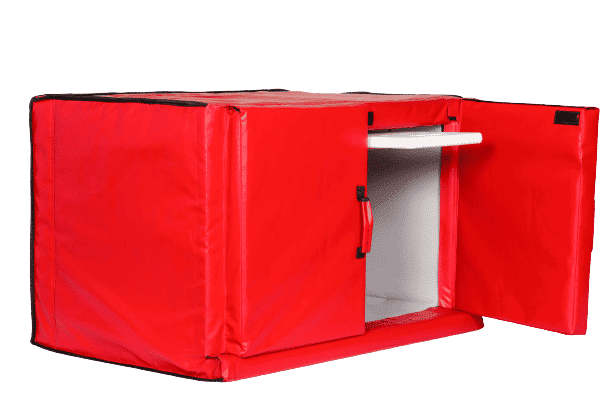 Interested in this product? Download the data sheet!
If you'd like more information on this product, you can download its technical sheet via the form opposite. You'll receive your document directly by e-mail!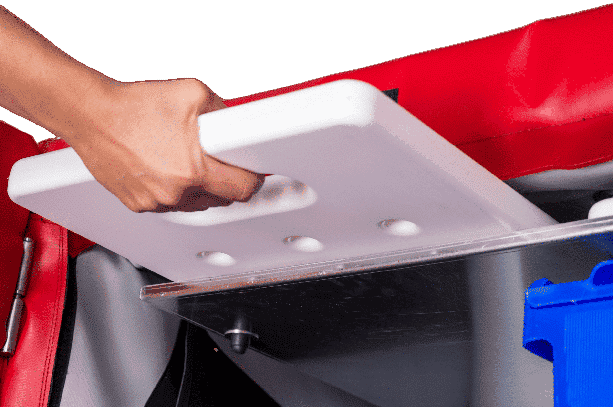 The temperature maintenance is guaranteed by the addition of eutectic plates previously conditioned at the right temperature.
It is the number of plates used that defines the duration of your cold chain.
In the same way, it is the nature of the eutectic plates used which defines the temperature of maintenance of your products (between 0°/4°C, +2°C/+8°C, +15°C/+25°C, <-18°C, etc).
COLD & CO will help you to define your needs. You can also consult our "Introduction to the refrigerant catalog" to identify the nature of your refrigerant.
With a useful volume of 348L, our isothermal container CarryTemp XL2 has been designed to contain 2 handling boxes 60×40 cm (height 310mm) commonly used in professional logistics. CarryTemp XL2 can also be loaded directly with your fresh parcels or cold boxes.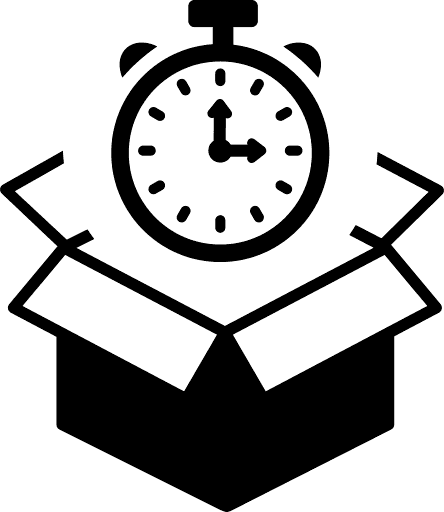 Conçu en panneaux de polyuréthane à très forte résistance isothermique, le contenant isotherme CarryTemp XL2 présente un coefficient de conductivité thermique lambda ʎ ultra performant. Le maintien en température est garanti sur des durées allant jusque 72H (selon conditions d'usage).
Commodity Transportation Regulations - ATP Certified
The CarryTemp XL2 isothermal container is ATP approved with a K coefficient < 0.40W/m².K which gives it its approval for fresh and frozen products (category C <-20°C and category D <0°C). The CarryTemp XL2 isothermal container can therefore be used on journeys of more than 80km in compliance with ATP regulations ("Agreement on the International Carriage of Perishable Foodstuffs and on the Special Equipment to be used for such Carriage").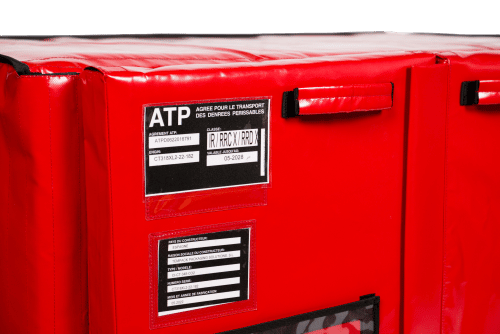 Weight, maneuverability and energy advantage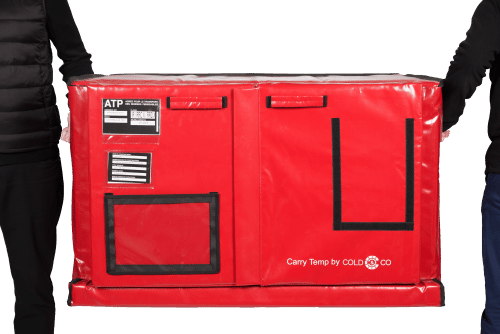 The CarryTemp XL2 isothermal container has an overall weight of 20kg for a volume of 348L. Its very low weight/volume ratio makes it a real asset compared to traditional roto-molded isothermal rolls whose weight exceeds 70kg for the same volume. Easier to handle, the CarryTemp's low weight is also an advantage in terms of energy consumption: the lower the weight of your refrigerated equipment, the lower your fuel consumption!
The CarryTemp XL2 insulated container is made of a polyurethane panel covered with a waterproof PVC fabric. The maintenance is easily done with soapy water (like Marseille soap) or food disinfectant wipes without rinsing.
Excess moisture can be absorbed with a dry cloth or by natural drying. Between uses, remember to air your isothermal container by leaving the doors open.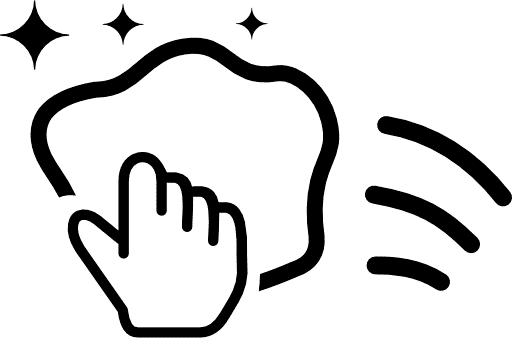 The CarryTemp XL2 isothermal container is made of strong polyurethane panels resistant to shocks and compression. Both insensitive to humidity and rot-proof, the PVC fabric is not afraid of wet cold or micro-organisms and is perfectly adapted to cold logistics.
The design of the CarryTemp XL2 isothermal container was carried out by the R&D team of COLD & CO, expert in cold engineering and professional logistics constraints. The production is carried out locally in our partner factories, in border countries.